Like a lot of little girls I started baking early. These first attempts were mostly "helping" Grandma or Mom. I can't remember how old I was when I was first allowed the privilege of actually using that most dangerous of kitchen machines…the Stand Mixer! Dire warnings of wayward fingers getting caught in the midst of whirling beaters filled my childish brain. Even now I briefly flash back to that worry whenever I add ingredients or scrape down a moving mixer bowl. I reckon that's a good thing since all ten fingers remain intact aside from one index finger broken whilst playing catch the football with hubby. Anyone who knows him will vouch for his speed and accuracy. His tight spirals are like rockets! We have a difference of opinion on the who's to blame for my misshapen knuckle but that's another story…
The first recipe I ever made using yeast with no help was for soft homemade pretzels. I have no everlasting clue where the recipe even came from. You know how you have those memories from childhood that are mostly just "flashes"? I have a brief memory of rolling the dough out and forming the pretzel shapes on the kitchen counter. I remember being so proud of my skills especially when the end result was so delicious!!
Those memories were revisited today when I baked these 30 minute soft homemade pretzels I discovered on Sally's Baking Addiction. They were so easy and quick to make! Now I remember why baking pretzels was so much fun! Rolling the dough out is just like playing with Play Dough! This is a fast, fun recipe to make with your children and grandchildren. They will love to eat the end results and the memories will remain just like they did with me.
Do you have an especially early cooking or baking memory that made you feel proud? Leave a comment below. We'd love to hear from you!
Here are a few dipping recipes to try!
Honey Mustard Dip from Real Simple
Beer, Jalapeno and Cheddar Cheese Dip from Life and Kitchen
Way Too Easy Peanut Butter and Chocolate Dip from Foods.com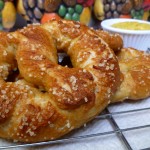 Make these soft, homemade pretzels at home in less than an hour with instant yeast!
Servings

Prep Time

8

large pretzels

20

minutes
Servings

Prep Time

8

large pretzels

20

minutes
Make these soft, homemade pretzels at home in less than an hour with instant yeast!

Servings

Prep Time

8

large pretzels

20

minutes

Servings

Prep Time

8

large pretzels

20

minutes
Preheat oven to 425 degrees F. Line a large baking sheet with parchment paper and set aside.

Place water and yeast in a large bowl and stir until mostly dissolved, approximately 1 minute. Stir in the salt and sugar until combined. Add three cups of flour one at a time stirring well after each addition. Stir in 3/4 cup more flour. If the dough remains on the sticky side you can add up to 1/2 cup more. The dough should spring back when lightly pressed.

Bring water to a boil and stir in the baking soda.

Sprinkle your work surface with flour and turn out the dough. Knead for three minutes then shape into a rough loaf shape. Pinch off 8 pieces of dough.

Roll each piece of dough into a long rope approximately 20 inches long. Form the basic circular shape by crossing one side over the other approximately 4 inches from each end. Twist and bring down to the bottom of the circle. Press to seal making the traditional pretzel shape. Repeat with each piece of dough.

Lower each formed pretzel one at a time into the boiling water and allow to remain for 30 seconds. Remove and repeat with each pretzel.

Crack the egg into a pie pan or other shallow dish with a rim. Dip both sides of each pretzel into the egg and place on the parchment covered baking sheet. Sprinkle with coarse salt.

Bake in preheated oven for 10 minutes. Raise the oven temperature to the Broil setting and continue to bake until the tops are brown taking care not to burn them. Remove from oven and allow to cool as desired. Serve alone or with your favorite dipping sauce or spread. Leftovers may be stored tightly wrapped up to 3 days.
The boiling water/baking soda step helps make the pretzels chewy and gives them the nice classic brown crust.  This step may be omitted if desired.  The crust will be a lighter color.