Part I – Introduction and Personal History of Cornbread
In the spirit of fall, I have decided to create a recipe series dedicated to corn bread.  I intend to explore the history, additions, and alterations to the recipe.  Over the next 4 weeks I will expand on each of these topics, along with sharing a recipe.
I know there may be a divide on certain cornbread techniques, and since I am diving head first into the topic, please enlighten me of your opinions and experiences!  I would love to hear from you in the comments below, or send us an email through our contact page!
I will start the series off with my personal history and limited experience with cornbread.  To tell the truth I have a hate/love relationship with it.  I was not a fan growing up.  Something about the gritty-ness maybe?  Maybe it was because I wasn't especially enthusiastic about chili which it was usually served alongside.  Not even gobs of melted butter could warm my taste buds to the idea. Then, Mom served a recipe for sweet cornbread.
Once I tried a slice, my taste buds were heated up to a frenzy.  The ratio of flour (high) to cornmeal (low) to sugar (medium) is just perfect.
This is the only recipe I have made since. I may or may not be known to wholly skip out on the main dish, and eat solely this.  Shh! Don't tell anyone!
So, this is my current and limited knowledge of cornbread.  I am looking forward to increasing my culinary knowledge on the topic over the next few weeks.  I will be sharing what I learn along the way, so follow along, by clicking on our social media links in the top right, or subscribe to our monthly recipe digest in the form in the bottom right!
Fall Recipe Series
Part I – Introduction and Personal History of Cornbread | Recipe for Sweet Cornbread
Part II – History and Traditions of Cornbread | Recipe for Basic Cornbread
Part III – Regional Differences & Additions to Cornbread | Recipe for Green Chili Cheese & Bacon Cornbread
Part IV – Thanksgiving & Cornbread | Recipe for Cranberry Cornbread Dressing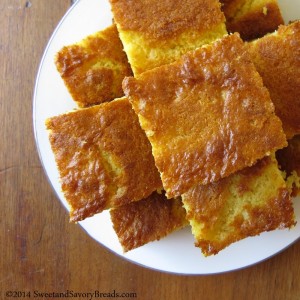 So, tell us…
Have you tried this recipe? Have you made something similar? Do you like a particular photo? Does a step seem unclear? Comment below, we'd love to hear from you!

Preheat oven to 350° and prepare 8" x 8" baking pan by greasing with cooking spray.

Whisk the four, sugar, corn meal, baking powder and salt in a medium bowl.

Place the eggs in a small bowl and whisk lightly. Add the milk and oil to the bowl, then melt the butter and combine thoroughly with the wet ingredients,

Add to the flour mixture, and stir just until blended.

Pour into your prepared baking pan and bake for 30-40 minutes or until a toothpick comes out clean.
Apparently this recipe is originally from the Albers Box and has been on there for many years.  Do I overestimate when I think there may be others out there who call this their favorite as well?